Animal Communication
"If I could only ask my horse!" – is this something you've always dreamed of? Or something you say in desperation?
Well, it isn't impossible. You can ask your horse and get his answers!
Animal communication allows you to ask your questions and find out first-hand (-hoof) what your horse thinks or wishes for. You can learn how to do this for yourself in my seminars, or you can ask me to get in touch with your horse and communicate on your behalf.
I am an experienced animal communicator with a network of experienced colleagues behind me, including my own two horses. My book Die Luke Chroniken tells about my own incredible experiences with my horses, and about my own path of learning how to communicate with them. The book is in German, but I can send you selected chapters via email if you're interested in learning more about me and my journey.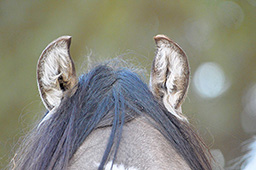 The question "How does animal communication work??" is about as hard to answer as the question: "What is consciousness?". Both concepts are difficult to grasp, but both are things that many people are convinced of without a doubt. It is just a matter of believing, and whether you can accept something that is simply difficult to fully understand or has no full explanation. If you are not sure whether to believe in animal communication or not, that's ok, but I am not up for tests with strange or telling questions; however, if your horse's answers are not what you expect, you won't have to pay anything – and that's a promise.
What questions should be asked, and what answers can be expected?
Actually, you can ask almost anything. I never tire of being amazed at horses` answers in sooo many different areas.
"Talking" to a horse is a bit like a chat between two humans. Different people will elicit different answers from you. For example, there are some people that you will not feel comfortable speaking about personal matters with. As this is the same with horses, I work with a network of colleagues in the very rare but possible situation that I do not get an answer. For instance, not every horse wants to talk about physical issues. Imagine a strong and badass gelding – maybe he simply doesn´t want to let on about pain. In that case I might ask a colleague (with your agreement and of course at no additional cost) to ask the
It is crucial that you and I discuss what your horse's answers mean to you. In our session with your horse we can immediately check back whether you need to ask further questions, more precise questions or seek any other clarification. Check the section "Services" to find out more about the various options available, or feel free to drop me an email or use the contact form.
I am looking forward to your questions and passing on the answers that your horse can provide.